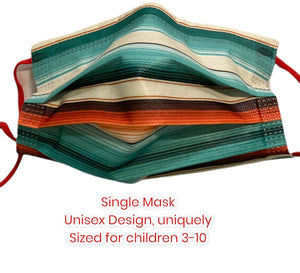 NEW, FRESH STOCK !! Small/XS Children's Mask!!
This mask is sold individually for $2 (under 50 total) ❤️
 This item is also sold in a pack of 50 total masks which will have all Children's Size Indigenous Serape Design  (50% off if you buy the box rather than singles)
 
These non-medical face masks 😷 are lightweight and comfortable. Filters out harmful particulates while being easy to breathe through.
3 layers of protective non-woven material
Offers protection from harmful airborne substances
Two-strap elastic loop design
Adjustable nose bar providing maximum comfort
Non-medical