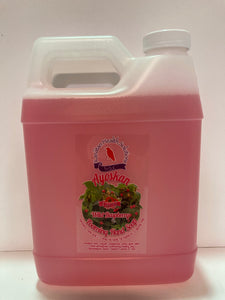 900 Ml of our foaming hand soap will refill 3 x 300ml soaps ... this refill can be used in any of our foaming soap bottles!! Save $5 and help recycle your foaming soap bottles!

All of our luxurious foaming hand soaps are triclosan free & contains beautifully scented essential oils that foam into the rich, thick texture of the product.
It stands to reason that the more people enjoy using the product, the more likely they are to use it – theoretically increasing hand hygiene compliance rates. More studies on this topic are needed, but for this reason, foam soap may offer some hygienic advantage over traditional soap products.

Why don't we say "Antibacterial "? Because in order to have antibacterial on the label, we would have to use harmful chemicals like Triclosan and will not rush safety.
Traditional hand soaps are just as effective as anti-bacterial soaps when you wash for 20 seconds.*
*According to FDA: There is currently no evidence that anti-bacterial soaps are any more effective at preventing illness than normal soap and water. See more at FDA.gov.