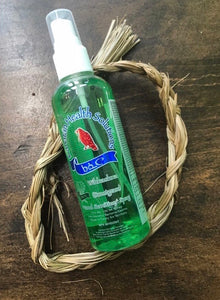 Our Sweetgrass Hand Sanitizer Sprays Are Made With The Highest Quality Ingredients - Starting With Locally Sourced, 100% Natural, Sweetgrass Nature Identical Oil.
All of our Hand Sanitizers have a valid NPN which means we are authorized for sale by Health Canada! NPN 80102065.and Contain 75% Isopropyl Alcohol (Medical Grade) with Natural Moisturizers ❤️...
Protect and Soften Your Hands with Each Use! No need to use harsh chemicals or improperly utilizing industrial-grade Ethyl-Alcohol which dries skin and has caused major irritation on some people (Health Canada has recalled many of those types of Sanitizers).
Packaged In Easy To Use, Handy Spray Bottles.

NPN #80102065.
Payments by etransfer are accepted ... please note your name & order number to pay via etransfer to: payments@kanatanhealthsolutions.ca

Shipping Is Available For This Product & Will Be Custom Quoted Based On Order Details.
Cash On Delivery In Edmonton or Saddle Lake Only At This Time.