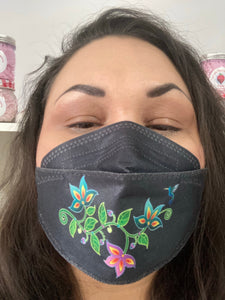 NEW, FRESH STOCK !! KF94 Fish Style Mask!! Pack of 10, 5 Floral Hummingbird 🌸 Design! And 5 Buffalo Sunset Design.
These masks are sold individually for $3 or in packs of 10, all One style OR 5 of each Floral & Buffalo for $20 (save $1 per mask) 
These non-medical face masks 😷 are lightweight and comfortable. Filters out 94% harmful particulates while being easy to breathe through.
KF94  material
Offers protection from harmful airborne substances
Two-strap elastic loop design
Adjustable nose bar providing maximum comfort
Non-medical