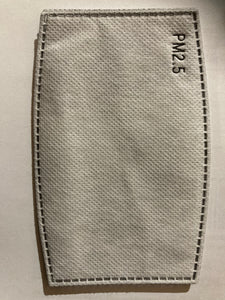 A PM2.5 filter is a disposable insert that improves a mask's filtration effectiveness, especially against the smallest aerosolized particles. A certified pm2.5 filter  used with a fitted cloth mask can block the vast majority of airborne particulates, including fine aerosols. When evaluating breathable, reusable solutions for everyday use, a pm2.5 filter + mask is one of the most protective options available.
How does a PM 2.5 Filter Work?
A PM2.5 filter works by creating an electrostatic barrier that captures the microscopic particles that common mask fabrics like cotton and polyester can't effectively block on their own. The melt-blown material in the pm2.5 filter provides superior sub-micron filtration  compared to typical cloth masks, but with less inhalation resistance than most medical-grade respirators like the n95.
Features & Details:
- Protective, high quality PM 2.5 filters
- 99.2% filtration efficiency
- Includes a one-time use disposable filter
- Easy insert
- Can be used with reusable masks or other reusable face masks
Composition (multilayer):
Non-Woven Fabric filter,  Melt-blown fabric filter, Activated Carbon filter!