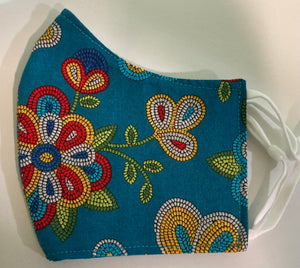 This mask is "Ninja Style" size Small, in Teal Tuscon.

Beautifully hand crafted, all of our 100% Cotton fashion (non-medical) face masks are created by hand with love & wisdom.
With many sizes, style choices and colours you too can go out in style and safety in mind!
All of our masks are created for easy use and come with handy resealable plastic bag and care instructions so that you can safely use them and reuse them. 
The Ninja Style cloth/fashion face masks do NOT hold filters.
We also carry face mask guards to help keep your cloth mask from being sucked into lips.