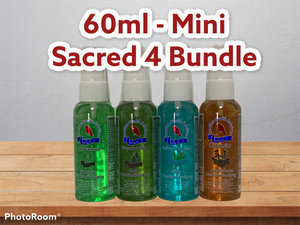 MINI-SACRED 4 BUNDLE 🙏🏽❤️!!
(This bundle contains 60ml bottles of our 4 main scents - Sweetgrass & Sage & Cedar & Sweet Tobacco). These 60ml bottles are handy, pocket sized and are packaged in a cute. organza satchel!
We, the Plains Cree, were given the gift of being named for the four parts of human beings. Nehiyawak, we were called. 
It means being balanced in the four parts that are found in the four directions of the Medicine Wheel. These four parts for human beings are the spiritual, physical, emotional and mental aspects of the self. We need to try and balance these four parts that were given to us, to function as people. 
To honour the teachings of our ancestors, as well as being true to our selves - we bring you our sacred 4 bundle - this bundle will include the essential oils from our 4 Sacred Smudges (Sweetgrass, Sage, Cedar & Tobacco). 
As with all of our hand sanitizer sprays, our newly launched Sweet Tobacco Hand Sanitizer Spray will contain 75% (medical grade) Isopropyl Alcohol, sweet tobacco essential oil, natural/plant-based moisturizers! All of our Hand Sanitizers have a valid NPN which means we are authorized for sale by Health Canada! NPN 80102065.
Buy the Mini-Sacred 4 Bundle Together for $30!  ... This bundle pricing is limited time so get your order in today ❤️❤️❤️❤️❤️

We are also selling our mini Wild-Mint Hand Sanitizer Sprays Separately.