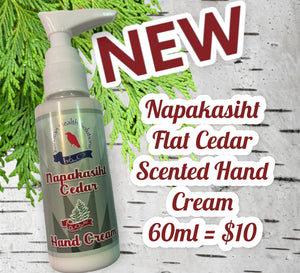 Introducing Kanatan Health Solutions Moisturizing Hand Cream ... This cream effectively soothes and moisturizes dryness and chapping. This amazing hand cream smells EXACTLY like a fresh bough of cedar!! The scent we used is the NEW KANATAN HEALTH SOLUTIONS  custom Blended Flat Cedar  Fragrance Oil!! 
Made from only 9 ingredients, it effectively adds a protective layer to the skin's surface, minimizing water loss and dramatically increasing its moisture content and smells fantastic- exactly like Fresh Brough of Flat Cedar- NO ACTUAL CEDAR used ❤️  
INGREDIENTS:  Emulsifying Wax NF, Vegetable Stearic Acid, Grapeseed Oil, Avocado Oil, Sunflower Oil, Glycerin, Aloe Vera Extract, Calendula Oil, Cromoist Hydrolysed Oat Protein, Vitamin E & Phenoxyethanol (and) Caprylyl Glycol (and) Sorbic Acid(preservative) , Kanatan Custom Blended Flat Cedar Fragrance  Oil.