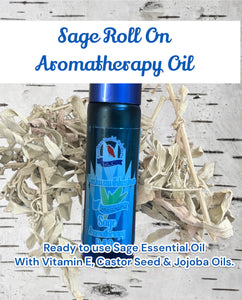 This little roll on sure packs a PUNCH… the little vial of roll on smells fantastic . The oil is complimented with : Vitamin E, Jojoba & Castor Oils for extra skin moisturizer  properties…… 
In aromatherapy applications, Sage Essential Oil is known to stimulate and clarify the mind while exhibiting a balancing, uplifting, soothing, and strengthening effect on the senses to ease negative moods. It is known to promote a sense of attentiveness, enhance memory, and soothe discomforts of the digestive, respiratory, and female reproductive systems.
Used cosmetically or topically in general, Sage Essential Oil is reputed to eliminate toxins, provide relief to minor skin abrasions, diminish the appearance of blemishes, and address stretch marks, sores, and swelling.Its moisturizing and conditioning properties help soothe dryness and irritation.