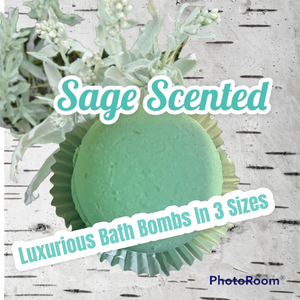 Available in 3 sizes: Small (30 G) $3 . - Medium (60 G) $5 - Large - $8.50 (120 G) ...
Each Ultra Moisturizing Super Fizzy Sage Bath Bomb is handmade with love and care - Utilizing only the finest ingredients including KANATAN Brand Sage Essential  Oil ... Our Sage Bath Bombs will fill your tub with the herbaceous aroma of fresh Sage!
Our Sage Bath Bombs are made with Cornstarch, Citric Acid, Baking Soda, Coconut Oil and Castor Oil ... these ingredients create a soothing & skin softening/smoothing bath that is sure to not only leave your skin soft and smooth but also smelling fresh, earthy and sacred!