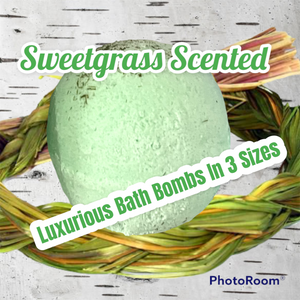 Available in 3 sizes: Small (60 G) $3 . - Medium (120 G) $5 - Large - $8.50 (230 G) ...
Each Ultra Moisturizing Super Fizzy Sweetgrass Bath Bomb is handmade with love and care - Utilizing only the finest ingredients including KANATAN Brand Sweetgrass Fragrance Oil ... Our Sweetgrass Bath Bombs will fill your tub with the beautiful grassy aroma of a fresh braid of Sweetgrass!
Our Sweetgrass Bath Bombs are made with Cornstarch, Citric Acid, Baking Soda, Coconut Oil and Castor Oil ... these ingredients create a soothing & skin softening/smoothing bath that is sure to not only leave your skin soft and smooth but also smelling fresh, earthy and sweet!!