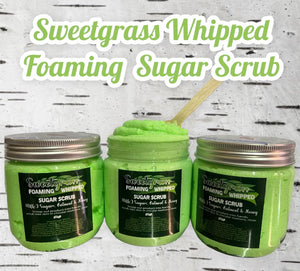 Luxurious Foaming Whipped Sugar Scrub with 3 sugars,  Oatmeal & Honey - Scented with Kanatan Health Solutions' Sweetgrass  Fragrance!
This unique whipped scrub is made for optimal gentle exfoliating & moisturizing capacity for  skin … watch for more scents to come!!! 
Ingredients:
Glycerin, Water, Sorbitol Sodium Lauroyl Isethionate, Disodium Lauryl Sulfosuccinate Sodium Chloride, Phenoxyethanol Tetrasodium EDTA, 3 Types of Sugars, Colloidal Oatmeal, Honey Powder, Mica & Fragrance Oils.