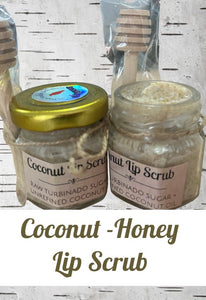 Dry, Chapped Lips? Slough off all the dead skin with our 100% Organic Lip Scrub Exfoliating & Moisturizing in one tiny packet!!
simply scoop a small amount onto lips and scrub gently with circular motions … ribbuntil sugar and dead skin fall off then let the moisturizing properties of the oils work it's magic! Soft, supple lips in the dead of winter?? Yes please! 

Packaged in a cute Honey Jar with little Honey Dipper !
Ingredients:
Virgin Coconut Oil
Jojoba & Castor Oil & Vitamin E
Honey Powder
Colloidal Oatmeal  
Turbinado Raw Sugar 
Organic Cane Sugar