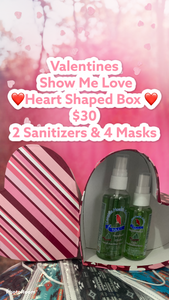 Valentines Day is Coming ❤️ Why not send your loved one a truly unique & definitely thoughtful gift of amazing scented hand sanitizers & helpful PPE! This box comes with :
1 x Heart Shaped Box 1 x 60 ml Sanitizer 1 x 100ml Sanitizer 4x Cute Disposable Masks!
We can ship it to you or direct or to your loved one anywhere in North America!!