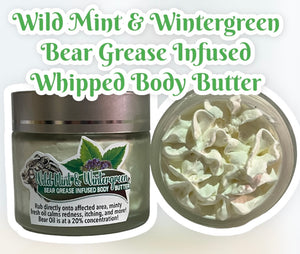 Unfortunately Kanatan Health Solutions was reported for selling Bear Grease Infused Body Butter so this product will NOT be restocked  …. Per Section 62(1) of the wildlife act …. We have been advised to stop selling this product.  Please Call Us if you have questions or concerns at 1-833-KANATAN….

This INFUSED body butter WAS made with 20% Bear Grease/Oil and Wild Mint Essential Oil, Wintergreen Essential Oil, Kokum Butter, Shea Butter, Jojoba Oil & May contain Tree Nut Oils (DO NOT USE IF ALLERGIC TO TREE NUTS).
Bear Grease has been used for centuries by Indigenous people for many different purposes and while we are allowed to have & use it / we cannot sell it.